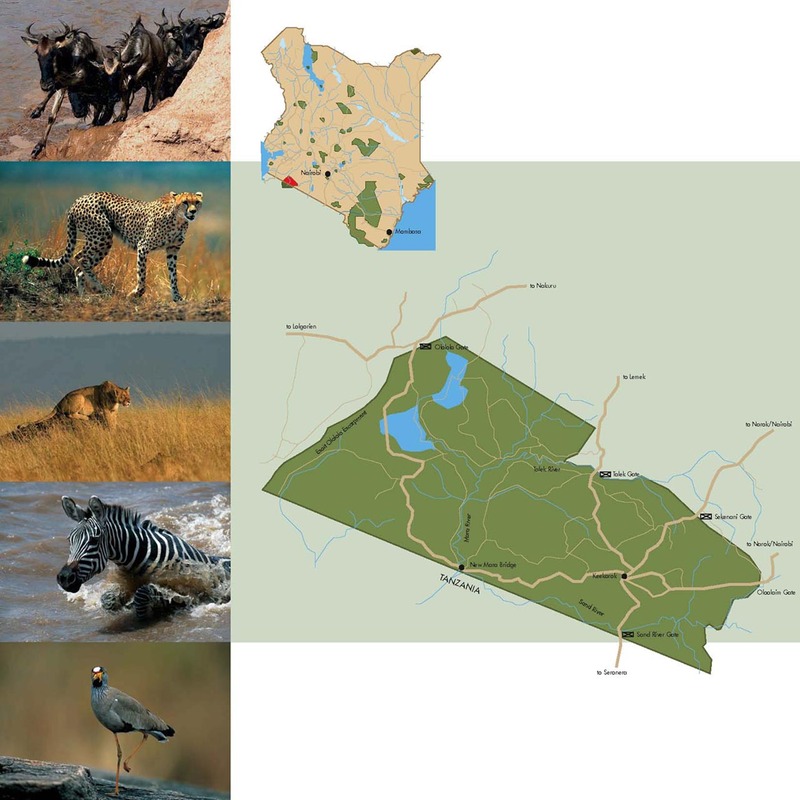 The Masai Mara National Reserve is situated in western Kenya and its southern borders extend as far as the Serengeti National Park in Tanzania.
It covers an expanse of over 1,500 square kilometres, at an elevation that ranges from 1,500 to 2000 metres a.s.l. Three permanent rivers (Mara, Talek and Sand) cross the Reserve, fostering an ecosystem that may be considered unique. Its territory consists mainly of open plains and savannahs dotted with green hills, acacia and commifora woodlands. Watercourses are lined with riverine forests and marshes.
The fauna of Masai Mara is so extraordinarily varied and abundant that it is not uncommon for visitors to sight the "Big Five" (lion, leopard, elephant, rhinoceros and buffalo) in a single day.
The most spectacular sight offered by the Reserve is undoubtedly the crossing of the River Mara by gnus and zebras during their "Great Migration". As a northern extension of the vast Serengeti ecosystem, the Masai Mara Reserve, with its abundant rainfalls, plays a vital role during the dry season. Every year hundreds of thousands of herbivores move from the dried-up plains of the Serengeti in Tanzania and slowly make their way to the north, in search of green pastures and fresh water. From around the end of June to mid-August, after a long and exhausting march, they reach the Masai Mara lush grasslands.
It has been calculated that over two million animals, mostly gnus, zebras and gazelles, take part in this, both spectacular and dramatic, yearly migration.
In their wake follow several predators, such as lions, leopards, cheetahs and hyenas, ready to prey on the weaker or wounded animals, while opportunistic vultures patrol the sky waiting their turn.
During the months of October and November, when the Masai Mara grazing lands are no longer luxuriant, the herds head back south towards the boundless savannahs of the Serengeti and the Ngorongoro Conservation Area, lush again thanks to the recent abundant rainfalls.