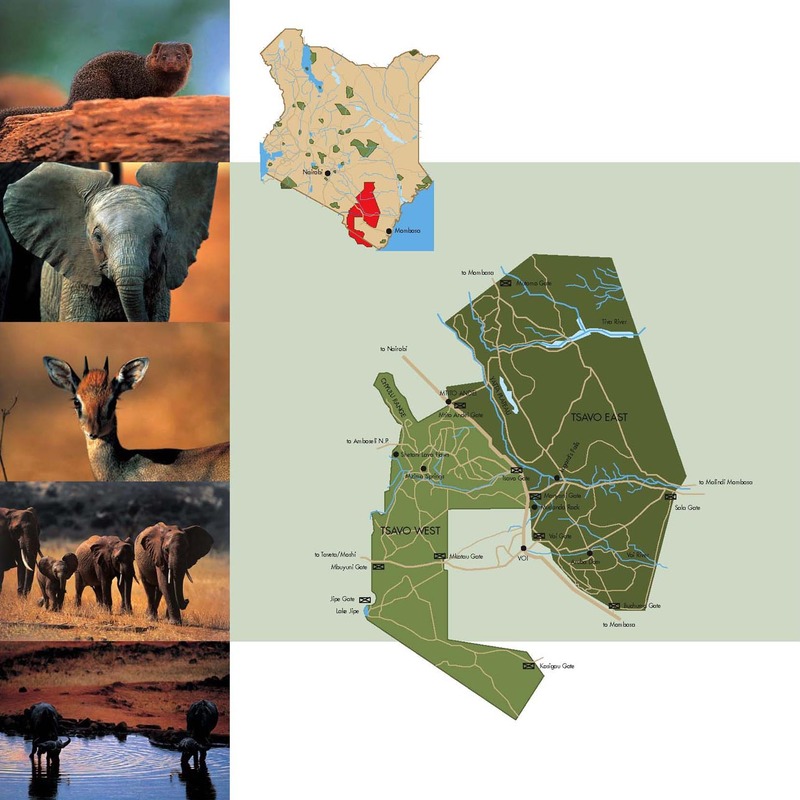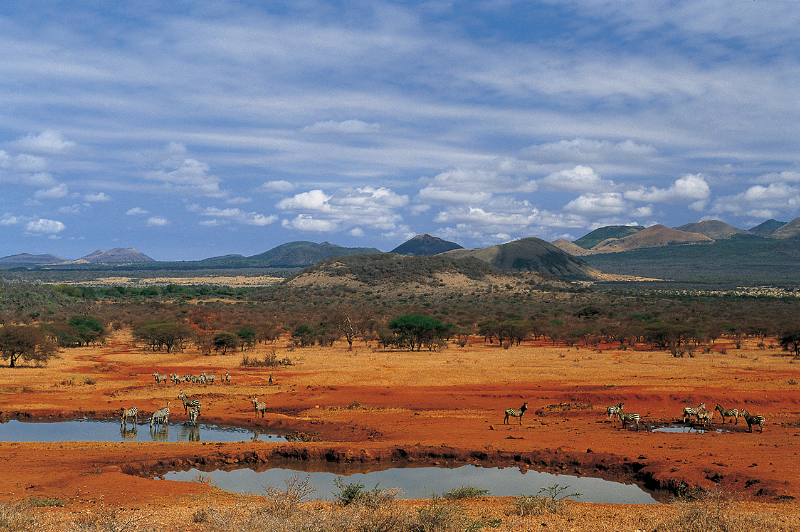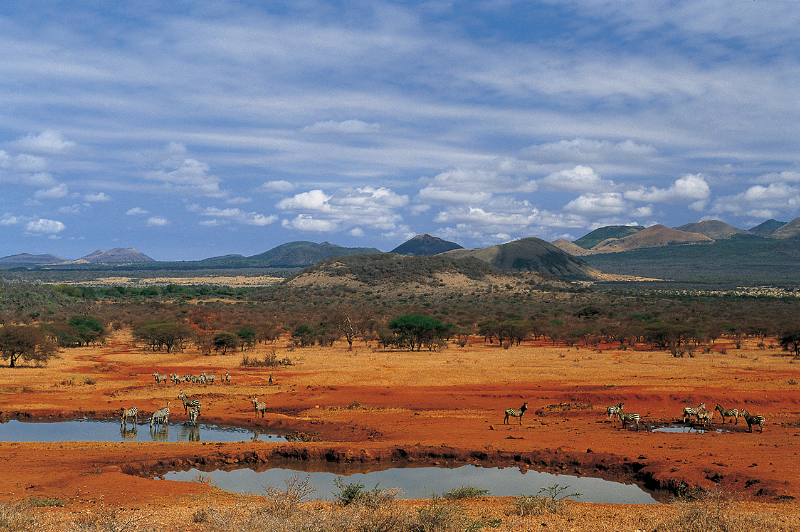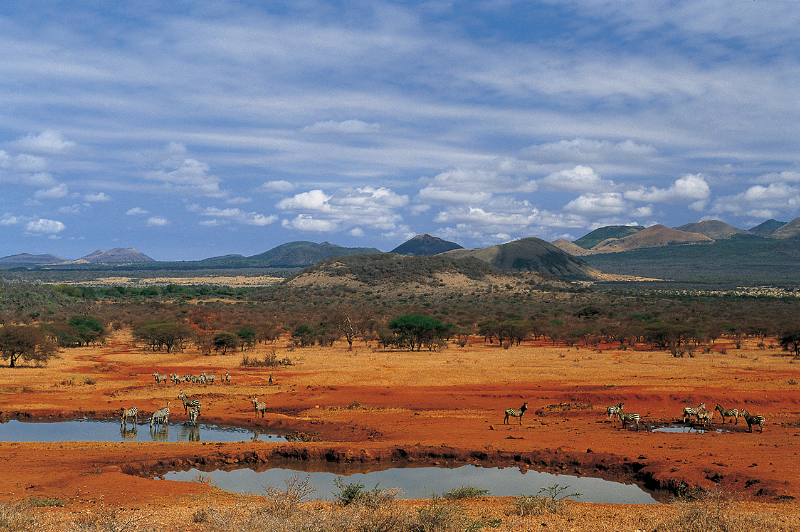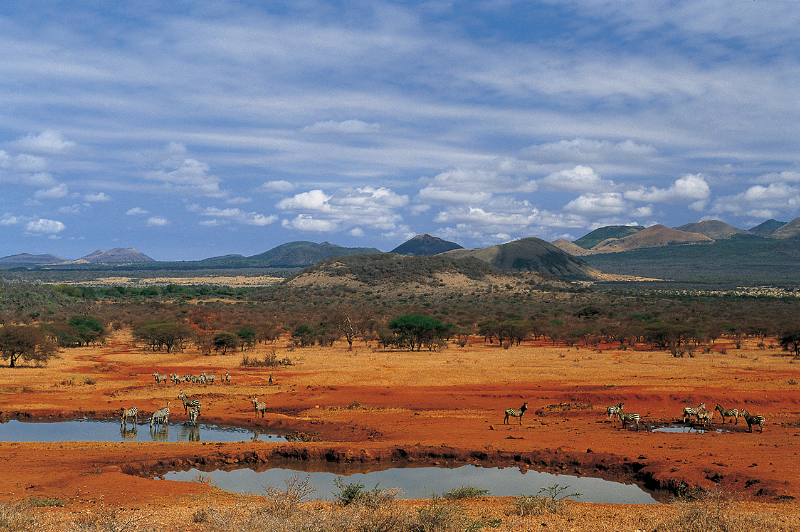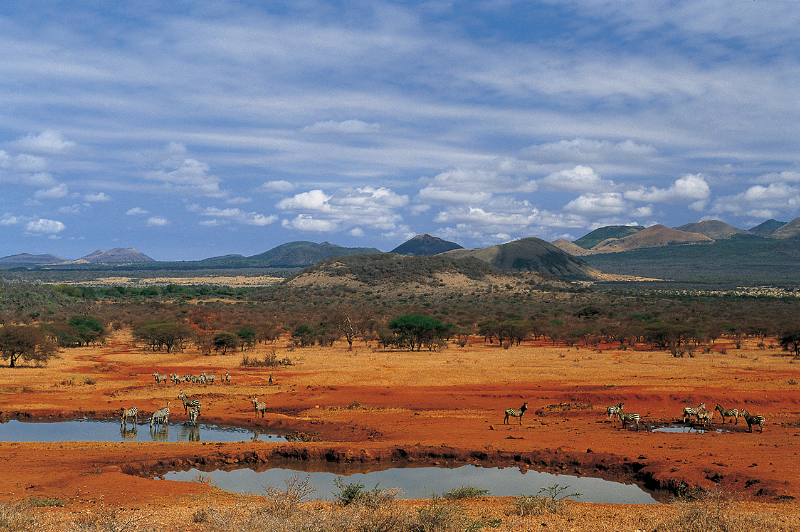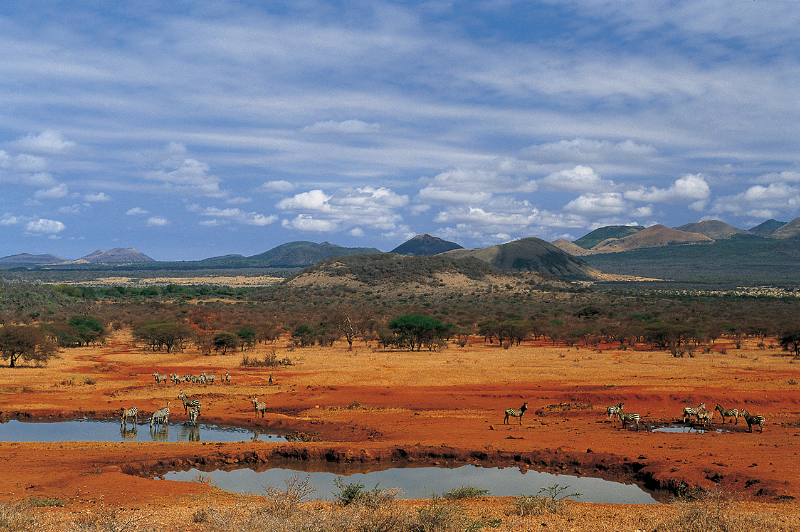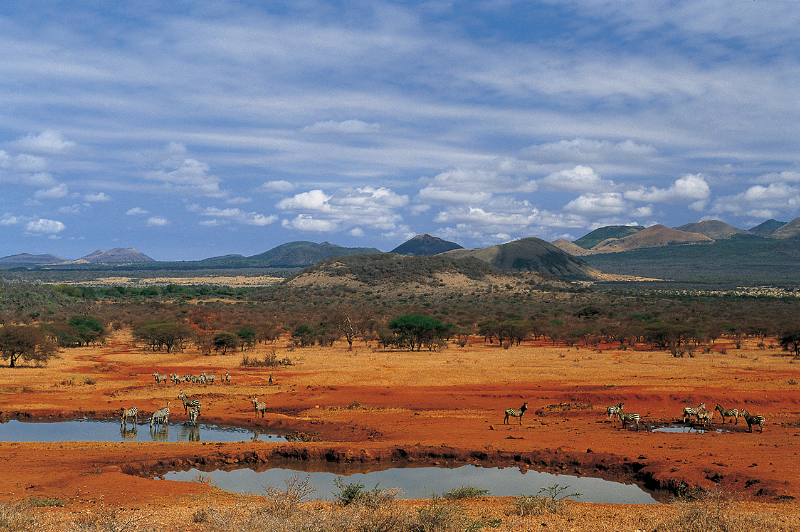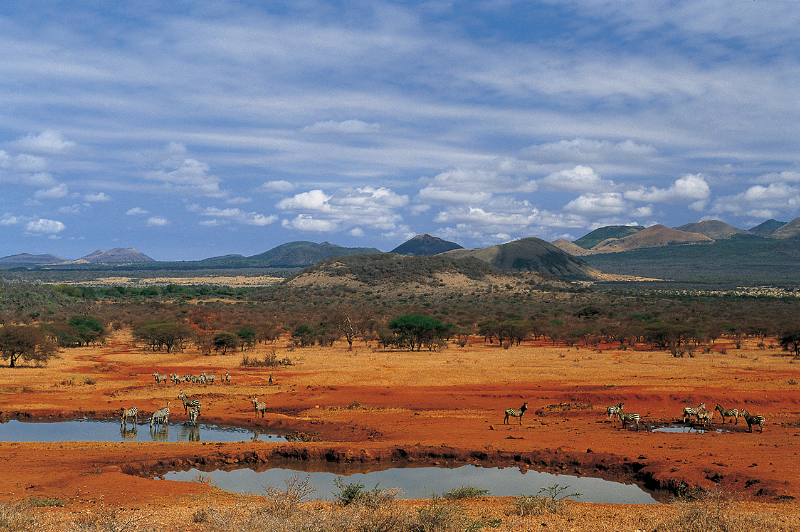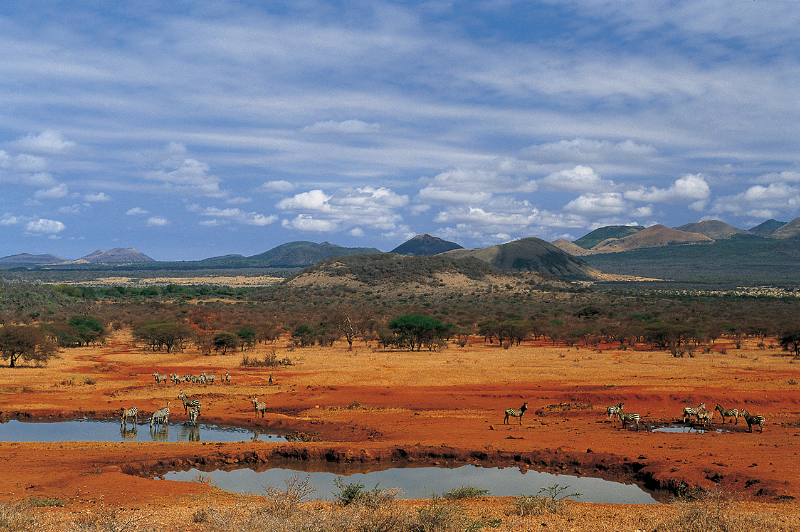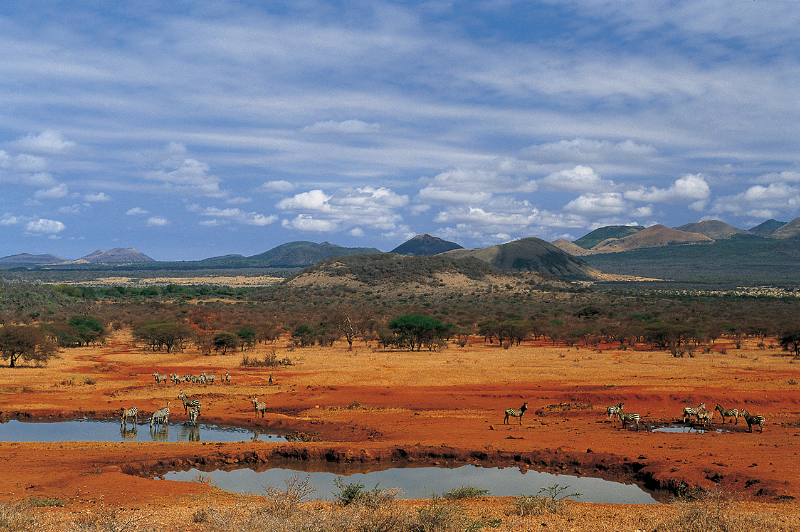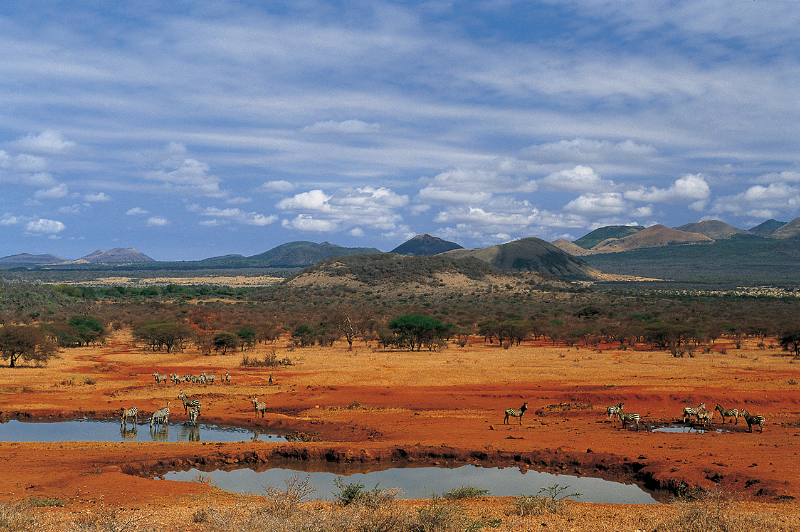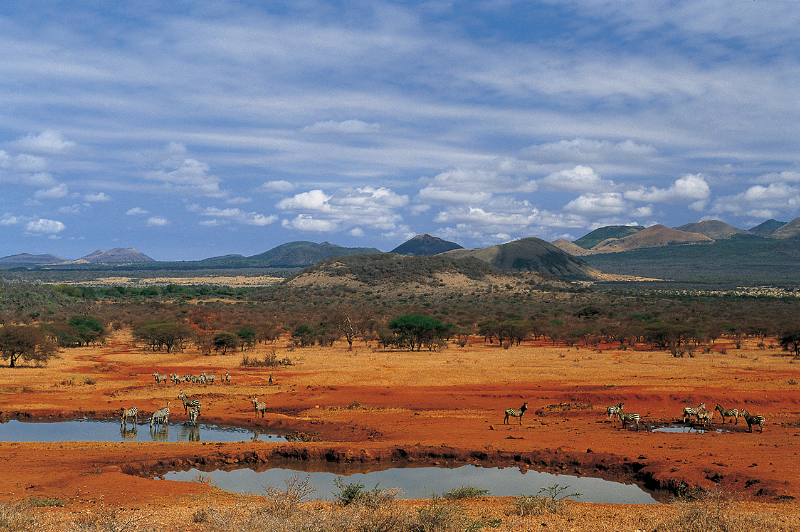 The Tsavo National Park was established in 1948 to protect the local fauna that was being put at risk by excessive and uncontrolled hunting.
This roughly 21.000 sq km Park in southern Kenya is the largest wildlife reserve in the Country. Because of its size, the variety of its ecosystems and the abundant flora and fauna, Tsavo is considered as one of the most important conservation areas in the world.
The main road connecting Nairobi to Mombasa, together with the "Lunatic Line" railway, almost bisects the Park in Tsavo West and Tsavo East.
Two permanent rivers cross the area: Tsavo in the western part of the Park, and Athi, which comes down from the north and passes through part of the adjacent eastern sector. These two rivers join up just before Lugard's Falls, in Tsavo East, to become the Galana River.
Tsavo West embodies a diversity of spectacular habitats: hills, rivers, granite and basalt outcrops, and lava flows, an ideal environment for leopards and the rare Klipspringer. Vast savannahs, dominated by majestic baobab trees, alternate with dense acacia woodlands. The Chyulu Hills, a series of majestic volcanic cones in the north-west of the park, still feature their original craters.
The Mzima Springs form two large pools which are inhabited by hippopotamuses and crocodiles. A submerged glass viewing tank allows visitors to observe the life and behaviour of these animals and of a multitude of fish.
Tsavo East comprises mainly shrub savannahs, vast red-earth plains, hills, woodlands, ponds and marshlands along the seasonal rivers Tiva and Voi,  as well as dense palm thickets along the rivers Athi and Galana.
The Tsavo National Park is world-famous for its large herds of buffalos and elephants. The coat colour of the elephants often ranges from pink to dark red: this is due to their habit of spraying themselves with the red dust of the soil to keep cool and deter parasites.
Various species of mammals roam these boundless plains: zebras, lesser kudu, hartebeest, Masai giraffes, Grant's gazelles, waterbuck, warthogs, gerenuk, as well as honey badgers, bat-eared foxes, mongooses, African civets and genets. Though once very numerous, the black rhinoceroses are now very rare. Predators include lions (the males in this Park do not have manes), leopards, cheetahs, servals, jackals, caracals and striped hyenas.
The prolific birdlife of Tsavo features over 500 species. Reptiles include crocodiles, common mamba, Egyptian cobras, black-necked cobras, puff adders, pythons and various species of agama lizards.
The climate is dry for most part of the year, with temperatures ranging from 20 to 40°C. There are two rainy seasons: the long rains, from March-May, and the short rains, from October to December.
The portion of Tsavo East to the north of the Galana River, a totally wild area, is inaccessible to tourists, while the rest of the Park can be visited all year round.